Fall and Early Winter:
September 3, 1914: French Government moves from Paris to Bordeaux.
September 4, 1914: German Army takes French city of Rheims.
September 5, 1914: The Miracle at the Marne.
September 10, 1914: 1st Battle of Masurian Lakes.
September 14, 1914: French Army reoccupies Amiens and Rheims.
September 20, 1914: Rheims cathedral hit by German shell fire.
September 24, 1914: Allies occupy Peronne.
September 29, 1914: Bombardment of Antwerp begins.
October 2, 1914: British Navy begins mining of North Sea.
October 6, 1914: Germans beat back Russians in Poland and Galicia.
October 9, 1914: Belgian Government moves to Ostend. Antwerp surrenders to Germans.
October 11, 1914: 1st Battle of Ypres begins.
October 13, 1914: British occupy Ypres.
October 14, 1914: Canadian Expeditionary Force (CEF) lands in Britain.
October 15, 1914: Germans take Ostend. Belgian Government moves to La Havre, France.
October 21, 1914: German Army forced to retreat from Warsaw.
November 1, 1914: German and British Naval engagement at the Battle of Coronel. Russia declares war on Turky.
November 5, 1914; Great Britain and France declare war on Turky.
November 9, 1914: H.M.A.S. Sydney defeats S.M.S. Emden.
November 11, 1914: 3rd Austrian attempt to invade Serbia fails.
November 22, 1914: British take Basra.
December 2, 1914: Austrians take Belgrade.
December 3,1914: Serbian Army forces Austria out of Serbia.
December 4, 1914: Naval engagement between British and German cruisers at the Battle of the Falkland Islands.
December 14, 1914: 1st Battle of Champagne.
December 16, 1914: German cruisers bombard Hartlepool, Scarborough, and Whitby on the east coast of England.
December 18, 1914: Egypt becomes British protectorant.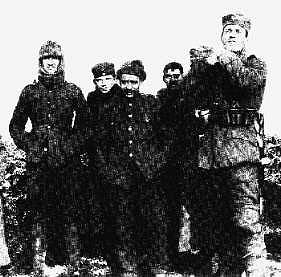 December 25, Christmas day 1914: Informal Christmas truce between German, British, and French troops along the front. Infamous soccer match between "Tommy and Fritz". "Fritz" won 3 goals to 2.
The bitter cold of winter turns 1914 into 1915 and the war goes on.